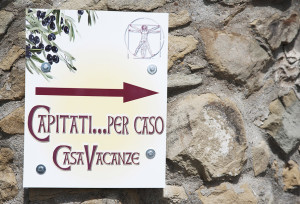 The "Capitati…per caso" (which in English would sound "we're come here by chance") rental holiday home is a typical independent furbished barn which is in "Capitati", 4 kilometres far from Vinci. It's ideal for those who love nature and relax, its structure is sourronded by olive trees on three sides and its positionfrom which you can have a dominant breathtaking panoramic view is very typical.
The pieces of forniture are in a country style and are very well maintained and comfortable.
It's ideal for people who want to have both a comfortable and relaxing holiday in nature, where the background is "the voices of nature", and for those who want to visit very important places for architecture, history and culture.
"Capitati … per caso" is near Vinci (about 4 kilometres far), Leonardo da Vinci' s native home town and it's possible to have daily excursions to Florence, Pisa, Siena, San Gimignano, Lucca, Arezzo, the mountain and the sea.
The garden, completely fenced-in, has a private swimming pool and a characteristic, functional wood-burning over completely made of small bricks and stones.
The structure consists of a kitchen, a sitting room with a fireplace and with the ceiling with exposed beams, a bedroom (on top flor) whith a double bed and a bunk bed, and two bathrooms (one of which is outside).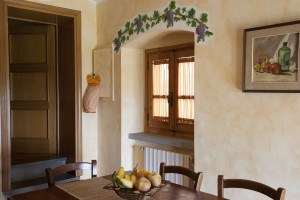 The magic of this place makes "Capitati…per caso" an ideal location for people who love being sourronded by a delicious atmosphere; when the sun goes beyond the horizon, and the underlying valley fills with small shining points, peace reingns and we can see a sky full of stars.